Earth-based Innovation Makes Space-bound Parts

A NASA's Spirit and Opportunity Mars Rovers are built with some of these parts. They were made nearly a decade ago and are still working on the surface of Mars today. More of them orbit the Earth in a wide variety of satellites. And the heads-up displays in F-15 and F-16 jet fighters are framed in them. What are they? Light-weight, precision parts made by WessDel, Inc., in San Jose, California. WessDel is a worldwide provider of precision manufacturing and fabrication services for a diverse mix of parts used in the defense, space and high-performance commercial markets.
All of the exotic parts WessDel makes have several things in common: They are designed to very tight tolerances. They have to withstand wide temperature ranges: the ones in orbit can go from about minus 250 to plus 250 degrees Fahrenheit. They all have very impressive strength-to-weight ratios. Finally, most of these parts are made from extremely expensive metals: typically either beryllium or AlBeMet (aluminum/beryllium) alloy.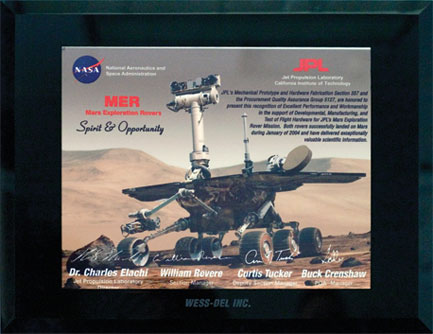 Because of the cost of the material, the cost of an error is painful to even think about. A part WessDel recently made for the government was machined from a 6 by 30-inch block of beryllium that cost $180,000 before machining. A block of AlBeMet typically used to make a satellite part costs $15,000. One bad cut could make a very expensive piece of scrap; therefore WessDel's test parts are made from aluminum.
"We buy huge chunks of aluminum just to scrap them making test parts," says Bernie Martin, WessDel's Manufacturing Manager. "When we're working with material that costs $15,000 for just one part, a $200 piece of aluminum is nothing in comparison."

Still, the shop doesn't love pitching $200 chunks of aluminum into the recycle pile. Neither does it love falling behind on delivery, because WessDel is a high-volume shop and its customers are demanding. WessDel has to be highly precise and very efficient. That's why, even though the CNC programming staff at WessDel have worked with various CNC systems over the years, the one they use day in and day out is GeoPath from SolutionWare Corp.

Bernie Martin says, "We use GeoPath for 85% to 90% of the work we do. For most of the parts we make, programming with GeoPath is a lot faster and a lot more efficient — from start to finish." Part of the efficiency comes from user-friendliness. "I can get more programming done with less clicks. You save a lot of time in loading the CAD file, optimizing the file for programming, and putting tool-paths to it. I like to get into a rhythm and work fast and GeoPath doesn't get in my way. I can just work.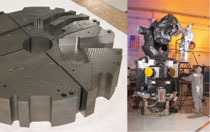 "Programming the parts we make takes an average of four to six hours with GeoPath. The exact same part would take a couple of days with the other software we have. I do six to eight programs a week myself and we have eight programmers altogether, so you can see the amount of work that goes through here."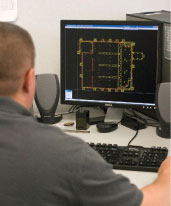 But speed is nothing without precision. "The aerospace parts that make up 90% of our business require extremely tight tolerances and profiles. You start out with a large solid block of material and end up with a thin-wall, lightweight piece. You have to approach programming in the right manner. If you don't, you'll end up with a really expensive potato chip. Also, the lead-time to even get the raw material is two to twelve weeks, so in addition to the cost in dollars, a bad cut can cost time, too. That's why we make our test parts out of aluminum: to keep the cost of our tests down. Of course, we all like it best when a program tests out perfect on the first try."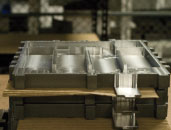 Getting it right the first time while still working on a demanding schedule takes capable programmers and machinists, and the right software. Bernie says, "GeoPath has probably been around the longest of any CNC programming system for regular machinists like us, and with the new enhancements coming out regularly, it's a no-brainer: we are going to continue using it as our primary programming system far into the future."
Call for details: 408.249.1529 main 888.322.3226 toll-free in the USA
TECH TIP

New Computers
Communicating to CNCs

Most new computers today do not come equipped with a standard serial port - computer manufacturers are switching to USB ports. This can come as a bit of a surprise to users when they are ready to transfer programming to their new computer and there are no working serial ports to communicate to the CNCs.

Adding a Serial-Port
The optimum solution is to add a "native" serial port to the computer. If your new computer is a desktop, you can purchase a serial port PCI or PCI-X internal card. If your new computer is a laptop, you can purchase a PCMCIA serial card. This method effectively creates a serial port resident on the PC. The cost is slightly higher than the 2nd option but is the recommended solution. If you choose this option, contact your computer manufacturer for details.
USB-to-Serial Port Adapter (or cable).
The second option to establish serial-port communications between your PC and CNCs is to purchase and install a USB-to-Serial Port Adapter (or cable).
There are many such products on the market and the cost is low. While SolutionWare does not guarantee any products, we would like to share with you some products that have been purchased by our customers and are known to work.
Radio Shack, 6 Ft. (1.8m) USB-to-Serial Port "Cable", Model #26-183, Catalog # 26-183


Cables-Unlimited, USB 2.0 to Serial Adapter, model #USB-2920


BAFO Tech, USB to Serial Adapter, model #BF-810


By comparison, here is a product that has been known NOT to work. Belkin, USB Adapter, model #F5U012X2.


Both options make it possible to communicate between your new computer and your CNCs – the choice is yours.
---

Want Training
SolutionWare Corp. training can make programming your parts faster and easier. We can train you online at your convenience or at our
San Jose, CA location.

Training videos are starting to become available, let us know what topics are of interest to you.
To sign up for training,
call: 408.249.1529


---