Lessons From a Recession-Proof Machine Shop

A recession-proof machine shop? In Silicon Valley? It not only can be done, it has been done.

When James Machathil took over the operations of a failing molding shop in 1991, he had no idea that it would grow into a 38,500 square-foot facility with 80 employees. Perhaps the most remarkable accomplishment is growing from 45 employees to more than 80 employees between 2006 and 2010, with steady growth, even in the recession years. When he started in 1991, he would have been happy just to make a good living for his family.

James has grown his shop, A1 Jay's Machining in San Jose, California, to be a full-service machining and short-run manufacturing facility — with services including precision assembly — all under one roof. While it's true that A1 Jay's is more than a simple machine shop, its history holds lessons that can be applied by nearly any shop.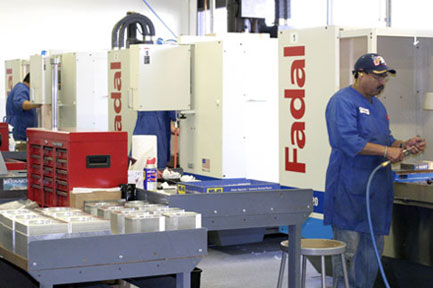 Lesson One: Do it
"When I took over in 1991, I took a look at my life and said 'why not?'" says James. "When I first started, business wasn't too good. But in that first year I got two new customers and hired three more people. By 1993 I had moved to a 3,000 square-foot building in a neighboring city and got one small CNC mill. I only knew how to do manual programming so I needed some help. I had heard about SolutionWare by word of mouth and called them up. They sent an applications engineer over to the shop."

"The first help I got from SolutionWare was for them to do all the programming for me. That got me through the first few months, but soon they convinced me that it would be easy for me to learn the GeoPath CAD/CAM system, and I bought my first license. I hadn't ever thought of myself as a programmer, but it turned out that GeoPath was as easy to learn as they said it was and soon I was doing the programming. That was another step forward."


Lesson Two: Provide Everything Your Customers Need
Meanwhile, James continued to steadily build the business. By 1995 A1 Jay's had outgrown its 3,000 square-foot space and James bought a 10,000 square-foot building. In 2007, he moved the company to its current 38,500 square-foot facility. A major reason for needing more space was that James was taking the important strategic step of adding capabilities as customers needed them.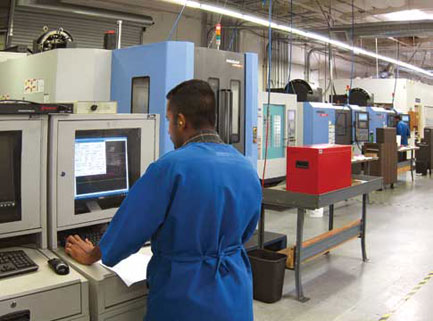 As James added capabilities, he organized them into departments: Manual Mill, CNC Mill, Grinding, Lathe, Wire EDM, Water Jet, and Assembly, in addition to the Programming department and the Inspection department.

Contrary to some trends in lean manufacturing, James maintains each process as a separate department. For him, this makes sense, as it allows maximum workflow flexibility in a shop that intentionally has a diverse roster of customers, which spans across disk drive, medical, solar energy, biotech, instrumentation, aerospace, automation, and semiconductor industries. James does not limit his shop's services to any specialization or any particular industry or any particular type of part. This tends to smooth out the peaks and valleys of shifting markets and economic conditions and is a big reason why his business continued to expand even in the recession.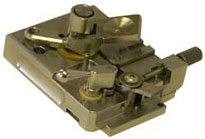 James explains, "We're a one-stop shop for most of our customers. The advantage for us is obvious: when we keep a job entirely in-house, we have far better quality control and we keep the money that would otherwise go into someone else's pocket if we had to send part of the job out. The advantage for our customers is lower cost and consistent quality. And if they need a quick turnaround, we can provide it for them because we have complete control of the schedule. The combination of turn-key convenience, end-to-end quality control, and cost efficiency keeps our customers coming back."

Lesson Three: Streamline Your Operations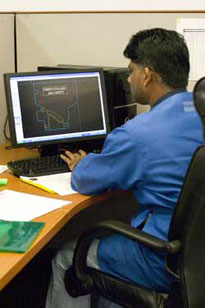 For added efficiency, a single department handles programming for all of the production departments. The programming department alone fills a 2,000 square foot office space adjacent to the largest production department. In addition, there are several more programming workstations in the middle of the production area, to make it more convenient to make modifications during setup. The company's seven programmers use the GeoPath CAD/CAM system almost exclusively.

Standardizing on programming software that everyone in the shop could use was a practical step. "I got GeoPath in 1993 because it was simple to use," says James. "Anybody could start right in: a basic machinist or toolmaker could use it right away. It's very simple to program and easy to learn. Although the software is far more powerful today, it's not complicated to use and it does just about everything we need. To me, that's the best reason to stick with it. Also, I get very good support and their training is very good and very fast. We now have fifteen licenses of GeoPath and only one license of other CAD/CAM software."

The proof is in the products. The parts and assemblies produced at A1 Jay's span the entire range from simple to very complex. Some of the complex ones require as many as twenty different setups. The bottom line is that the customers are happy.

The Take-Away
These lessons can be used at least to some degree by almost any shop.

If you have an opportunity and it makes business sense, do it. This does not mean you should take foolish chances: there is always a cost/benefit ratio to be considered, but James Machathil grew his business at a manageable rate that took this consideration into account.


Offer the services that your customers need, as soon as you see you can support them. The more capability you can offer under your own roof, the more you command and control your income. And the broader the range of different kinds of industries you serve, the better you can ride out an uncertain economy.

And streamline operations. One way to do that is to organize your shop in the way that works best for you. Another is to standardize on programming software that everyone in the shop can use with a relatively small amount of training. This helps keep operations simple and production high while keeping training time and costs down. James found that the GeoPath CAD/CAM system was right for the wide variety of work that his shop does.

Applying even one of these lessons can help your business. No one guaranteed that A1-Jay's Machining would be successful, but they are. The more of these lessons you can apply, the better your business can be.


Call for details: 408.249.1529 main 888.322.3226 toll-free in the USA

TECH TIP
Verifying the cuts and toolpath can help you see problems before they get to the shop floor.

There are two general categories of seeing this verification: Wireframe and solid-image. Which one is right for the job depends on your situation. Wireframe tends to be a lot faster, and Solid-image can show you additional details.

GeoPath CAD/CAM and MazaCAM Performance Package give you a good simulation of the toolpath for both the mills and lathes. Mazaks and some G-code machines also give you simulation of the program before you run your part. This is all good and it gives the user some reassurance that the program will run without complications.

If you would like to see the more detailed solid-image simulation before the program goes to the shop-floor, GeoPath Solid-Verify and MazaCAM Performance-Package with Solid-Verify also provide an option to verify your programs in a Solid Toolpath mode that will enable you to see you part being machined as a solid block with the stock being removed.

It also provides additional tools to help you visualize your programs as a solid therefore letting you see your part before it is machined. It also displays where the program gouges and rapids into the material.

GeoPath Solid Verify and MazaCAM Performance Package are additional modules that can be added if you have not already purchased them. If you do not already have the Solid Verification software, contact SolutionWare Corporation at (408) 249-1529.

---
Do you have new programmers that need to learn how to use GeoPath to make parts quickly?

Get Them Trained
call 408.249.1529
SolutionWare tech-support to find out about classes.

---
Do you have all the GeoPath Modules needed to get the job done?
· GeoPath for Lathes
· GeoPath for Mills

· Solid-Verify
· 3-D Milling

· Helical Threading

· EDM Programming

· Mazatrol Module

· Fabrication CAM
Call: 408.249.1529
---